A successful network marketer projects confidence.  You need confidence to gain the trust of potential clients.  What can you do to increase your confidence?  You can start improving your confidence by working on the steps listed below.
Six Steps to Gain Confidence as a Network Marketer
1. Surround Yourself with Successful People 
When you surround yourself with successful, supportive people it makes it easier for you to believe that success is possible for you too.  You can't eliminate all of the people around you who are negative or non-supportive of what you are trying to do but…. you can minimize the amount of time that you with them.
2.  Focus on Learning New Skills

AND

Put Them to Use
In order to become a successful network marketer you have to change who you are as a person.  You need to develop skills that you don't currently have by learning how to: advertise; write blogs; prospect; close – it's a long list.  It's a process of continuous learning BUT learning alone will not build your business.  Learn something new and use it as soon as you can.  This will help you to develop your skillset.  With skill you will gain confidence and see your business grow.
3.  Create and Collect Stories 
Your belief in yourself and your company will grow as you see results.  When you are first starting out you won't have results of your own.  In that case, you can create stories based on the results of others in your company.  As soon as you get results…. be sure to promote them as well and celebrate your success.
4.  Take Action Daily 
As you work on your business every day, your confidence will grow.  You will be expanding your skillsets.  Take action even if you don't know everything.  With each action you will be learning a new skill and that will help to develop your confidence.
5.  Practice
People develop into professionals by practicing their skills over and over.  Musicians and professional athletes practice their skills practically every day.  This is what you will need to become a professional network marketer.  What should you practice?  You can practice approaches, invitations and presentations.  Try to think of questions that prospects might ask and practice some answers BEFORE you get asked questions.  You can practice describing your company's compensation plan or its products.  If your company has different membership levels, you should be able to easily describe the different levels, the prices of them, the differences between the levels and the pros and cons of choosing the different levels.  Be sure that you go through all of the material that you were given about your company so that you know what is available for prospects.
6.  Regularly Attend Company Events
First of all, these events are an easy way for you to surround yourself with successful people.  The events also include a lot of learning opportunities.  All of this will help to strengthen your belief in the company and in yourself.
Once you engage yourself in these Six Steps To Gain Confidence as a Network Marketer you will become unstoppable.  While you will still encounter some difficult times and challenges, you will have built up a strong belief system that will carry you through the tough times.
Remember – invest in yourself, learn new things and then implement them in your business.
If you are looking for a company that will help you to accomplish all of this, simply click on the link at the bottom of this posting and check it out.  There's a 10 days for $10 trial period which will allow you to see if this company might be a good fit for you.
Best of luck in your network marketing adventures!
p.s. Please leave me a comment below about this posting.  I'd love to hear what you think about it and will answer your questions that you might have.
THE TOP EARNER FRAMEWORK?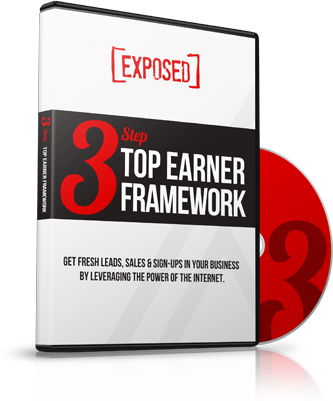 FINALLY Unlock the 3-Step Framework and Learn How to Get Fresh Leads, Sales & Sign-Ups in YOUR Business Leveraging the Power of the Internet.