If you're anything like me, you've tried many times to be a network marketer.   Even with lots of hard work I had  very little to show  (except maybe more bills). I'll be honest, I had given up on network marketing.  I wasn't successful at it.  But…. it REALLY bugged me that I got nowhere while others were very successful  network marketers.
I finally found out what the difference was between myself and the successful network marketers – it was my belief system! Your belief system is the very foundation that you need to be a successful network marketer.
The four elements of a strong belief system for network marketers
You need to have all four of them to have a strong foundation:
1) the profession of network marketing – if you're reading this, I'm going to assume that you believe that this profession has the ability to help people achieve their financial dreams…. no matter the size of those dreams;
2) your company and opportunity – for me, this was the second most difficult belief to develop. Have you bought in to a network marketing company that failed to deliver on its promises? I know that I have. I have now found a company that always OVER delivers on its commitments;
3) your products – it's very difficult to sound enthusiastic, confident and convincing when you don't truly believe in what you are promoting. When I finally found a company that I thought had possibility I decided to go for a trial period and the products BLEW me away. I didn't hesitate to sign up and become an affiliate; and
4) you – You have to believe in yourself.  How do you do this?  You will become more confident as you develop your skills as a network marketer.  With the right skills you can become a success as a network marketer.  Learning skills isn't enough.  You have to take action and use those skills!
Network marketing is not for the weak of heart but let me tell you…. when you have the right fit it is fantastic.
Why not check out the company that I have found? This company has produced many six figure earners in the network marketing industry.  It has done this in its first eight years in business and it's only getting bigger, better and stronger!
p.s.  Please leave a comment below and let me know what you think of this posting.  I'd love to hear what you think.  Thanks!
THE TOP EARNER FRAMEWORK?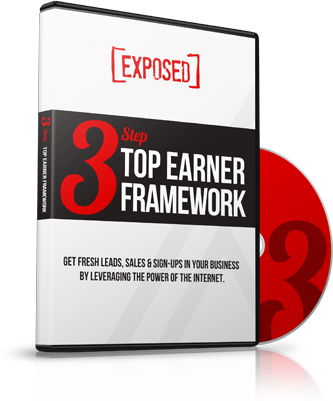 FINALLY Unlock the 3-Step Framework and Learn How to Get Fresh Leads, Sales & Sign-Ups in YOUR Business Leveraging the Power of the Internet.